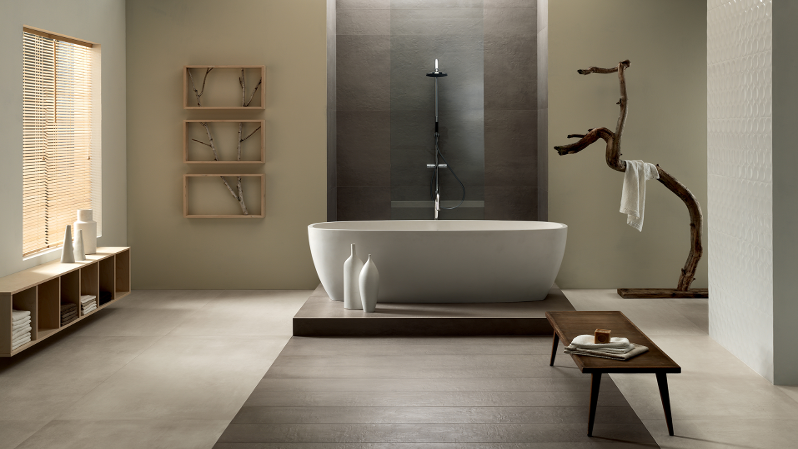 Choosing two-coloured floors for your home can be a challenging task, especially since every detail will have to work perfectly: from the arrangement to the materials, from the size to the colour matching.
Especially about the latter discriminating, we have recently published an interesting contribution that you can find on our blog and that will allow you to understand how to match the floor tiles, obtaining a result of great style and maximum functionality.
What we want to propose today is a couple of collections designed and produced by Gardenia Orchidea, international leader in the creation of luxury ceramics, ideal if you want to install two-coloured floors in your home.
Gardenia - Two-Coloured Floors Mood Collection: These luxurious ceramics can be used both for floors and for coatings in any home environment. Particularly fascinating is the chromatic range chosen, strongly inspired by natural colours and designed for a contemporary interpretation of contemporary living. Mood has been designed in large sizes and finishes suitable for any floor and wall covering, and brings with it all the aesthetic and functional advantages of porcelain stoneware. Available in a wide range of colours, all combinable according to your tastes and needs. Stunning Mood's tactile feel, a collection that includes not only smooth surfaces, but also mosaics and decorations to suit every style and environment.
This is the colour range available:
- Salt
- Clay
- Canvas
- Tan
- Ash
- Rust
- Ivory
- Marsala
- Heavenly
- Mustard
Gardenia - Two-Coloured Floors Walk Collection: a practical and elegant style in its essentiality and line cleaning, designed for both monochromatic and bicolored floors. The typical inspiration for cement is at the base of this premium porcelain stoneware collection: the building material is excellent and it is transformed into the true protagonist of the home. You will face an absolute cleanliness and a rigorous material that is not compromised, but able to soften in delicate and elegant decorations. Contrary to what you might imagine, Walk is a collection that can transmit an unlikely lightness, and perfectly adapt in environments characterized by a strongly contemporary imprinting.
This is the colour range available:
-White
-Light Grey
- Medium grey
- Anthracite
- Beige
- Mud
All are freely matched to your tastes and needs, and are always able to give life to challenging environments from a visual and multisensory point of view.
Which colours would you choose for your two-coloured floor?