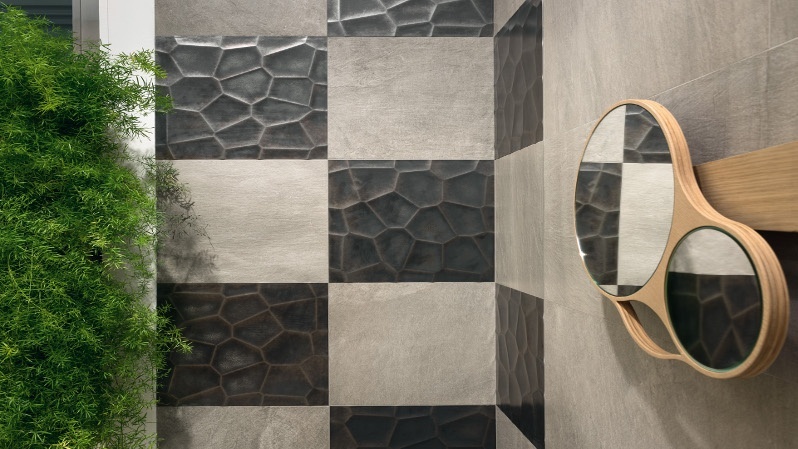 When choosing tiles for flooring and coatings for a small bathroom, it's essential to follow some ground rules that will allow you to optimize the visual perception of the spaces, in order to give life to an environment that will result open and bright from an aesthetic point of view.
In this article, the experts of Gardenia Orchidea will take into consideration three collections of flooring and coatings that are among the most efficacious for this kind of spaces.
As a general rule, we suggest you to always start thinking about using some strategies to furnish a small bathroom. Let's have a look at them together before examining the tile collection that we propose for your small bathrooms.
Colors: although you must avoid creating horizontal or vertical surfaces that are entirely monochromatic, you should also opt for a color palette comprising light colors that will give the environment a higher natural brightness and will also make you feel as the space is more open.
Pay attention to formats: try to avoid small tiles for flooring and coatings. Our small bathroom will seem bigger if you opt for medium or big tiles that will allow you not to fragment the surface excessively.
Horizontal: lay the coatings in this direction if you are furnishing a small bathroom. The reason is simple: you will be able to enlarge the prospective of the environment.
Alternate: enrich the flooring and coatings with decorative elements that will create a sort of visual "break" instead of a totally monochromatic surface.
Mosaics: mosaics are useful not only to "break" the visual perception of the environment, but will also make your bathroom be more precious, regardless of its dimensions. We suggest using them especially in niches and corners such as the one of the shower of tub.
Contrasts: finally, remember that flooring which is darker compared to coatings and toilets can contribute to enlarge the prospective even more.
Now let's talk about the
collections of flooring and coatings from Gardenia Orchidea
that we think could be the most adequate for
the interior design of small bathrooms
.
Concept Stone flooring: people loving the incredible effect of natural stone will especially like this collection to furnish bathrooms of any dimension, even the smallest ones. Concept Stone combines the typical aesthetic of the stone with the great performance of high-quality ceramic. The careful selection of the color palette for this collection of flooring tiles will allow you to create a clean and essential environment, even with a monochromatic style, if you want. Alternatively, you can play with colors to create breaks and chromatic contrasts: you will end up with a small bathroom with a great personality.
Just Life flooring: this collection is perfect if you want to give your bathroom a surprising wood effect, without giving up the great performance of gres porcelain. You will be able to choose between two natural surfaces and nine different shades of colors inspired by the most fascinating woods: light beige, blond beige, dark beige, red walnut, dark walnut, moss, bleached, grey and anthracite. Medium-big formats will help you to ensure a higher visual lightness, while a careful combination of different colors will allow you to create a naturally fascinating environment.
Mood flooring and coatings: this collection, thanks to its brave combinations of colors and to the large color palette available, will allow you to create a minimalist environment based on clean and angular lines inspired by the fascinating aspect of nature. This collection is characterized by precision of forms but also emotional appeal for this new interpretation of contemporary living. Mood is particularly indicated to furnish and personalize modern environments, with a strong personality and an industrial style.
Click here or on the botton below to get in touch with our experts in interior design: