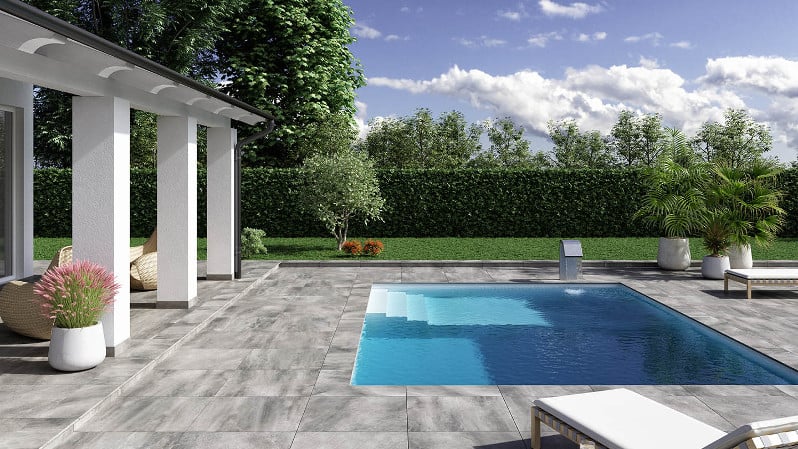 Are you planning to install outdoor tiles in your home? If so, there are undoubtedly a lot of indications that must be taken into account. Beyond the stylistic considerations related, for example, to the color of the pavement (light or dark?), or rather to its size, there are a number of equally important factors that must be considered in the early stages of your design project. These are mainly technical features such as hardness, slip resistance, location (a covered patio? A pool edge? A sloping ramp? A balcony? A terrace?), the ability to counteract the reaction of aggressive atmospheric agents such as hail, snow, ice, rather than to resist UV rays and so on.
In general, the outdoor tiles can be of different types:

- ceramic
- porcelain
- natural stone
- tiles of the Saltillo type
These are the most used types of outdoor flooring, and each of them is naturally characterized by specific technical, aesthetic and functional properties. Among the natural stones we can include travertine or marble, while the Saltillo tile is typically characterized by a color that is very reminiscent of earth-colored terracotta and is mostly used for Spanish-style design. We can say that almost all the outdoor tiles can be traced back to the types we have listed. In principle, you must then consider that this type of flooring offers many options in terms of shapes, sizes, colors, quality and prices and if, on the one hand, this gives maximum freedom of expression to the designer or customer, on the other hand, it can render the choice more complicated than expected. So let's start by defining which outdoor tiles can be suitable for you based on the specific characteristics of your design project. The first aspect that you have to take into consideration is the one related to the durability of the materials.
When you install outdoor tiles, these must be able to last over time and effectively counteract any type of atmospheric agent, especially if they are placed in an environment completely exposed to bad weather. For this reason, it is essential that you choose tiles that do not fade and that do not scratch easily, that do not chip and do not break at the first impact, and that maintain their aesthetic and functional characteristics substantially unchanged for as long as possible.
Another factor that should not be underestimated is that of slip resistance, especially if outdoor tiles will be installed in areas subject to water or humidity or on inclined surfaces. When the pavement gets wet, it must in fact be essential to maintain the "grip" on the step: otherwise, you will face a real security problem for people and animals. Obviously, even in this case it will be essential to ask for the advice of a specialist to help you identify which outdoor tiles can meet these requirements. In any case, try touching the surface of the tile: if it is too smooth, it is highly probable that its resistance to slipping is insufficient. On the contrary, if the surface is rough, its performance in critical conditions will prove to be much better. Please also note that suitable slipping tests are carried out on the tiles and that the result is identified with specific values of the friction coefficient and slipperiness. Here is a quick list of the most used reference standards:
DIN 51130 (piede calzato)
DIN 51097 (piede nudo)
ANSI A137.1.2012
ASTM C1028
BCRA – w.D.
Our advice is to never make a decision regarding your outdoor spaces, without having checked the legal requirements or having consulted an expert.
The general atmospheric conditions of the space where they are placed also influence the choice of your outdoor tiles. Do you live in an area with a temperate climate? In this case it would probably be better to leave aside the brick and the porous stones and go for the porcelain stoneware instead, which does not absorb water and is even better at low temperatures. As regards the available space, this detail must not be forgotten. It will help you to decide on the best size of your outdoor tiles and, in this sense, we advise you to choose the sizes carefully, evaluating the best compromise between the design you aim for and the needs of surface inclination for the evacuation of rainwater or the necessary elastic joints. Good design project!